Hilton Head Home Builders Association Establishes the Joe Harden LightHouse Award
The Hilton Head Area Home Builders Association (HHA HBA) announced the winners of the 2019 LightHouse Awards program on Friday, November 8, 2019 at the Sonesta Resort on Hilton Head Island. In addition to the well-established categories in home building and design, the 2019 LightHouse Awards Committee opted to create a series of new categories in Light Commercial construction reflecting the strong building economy in the Lowcountry.
In addition to the newly established light commercial categories which grouped commercial projects by construction cost into four final categories, the HHA HBA also established a new honor, the Joseph C. Harden Community Excellence Award, which recognizes achievements in community building by a HBA member company. The 2019 Joseph C. Harden Community Excellence Award was presented to Fraser Construction, LLC for continuing the work of Joseph C. Harden in creating a sense of space for Lowcountry citizens.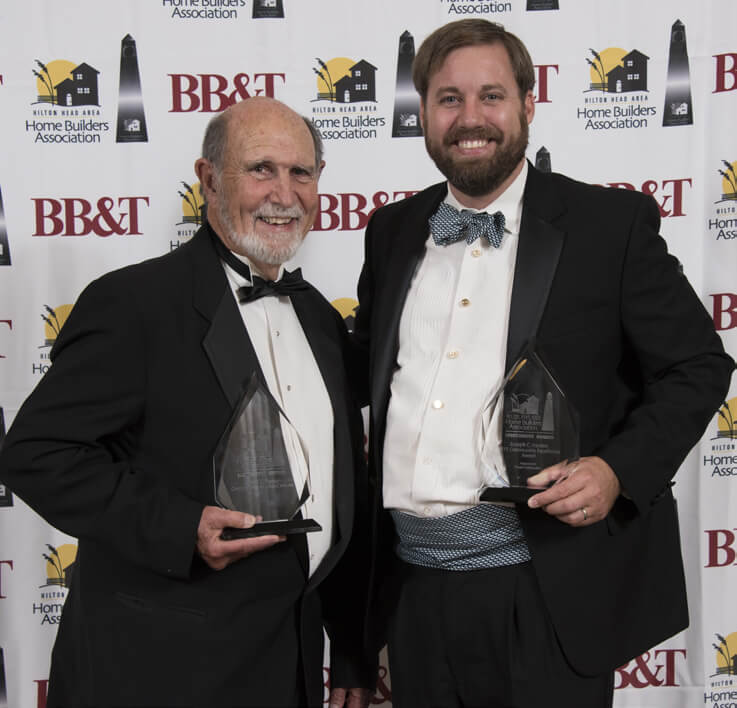 Joe Harden with Jay Fraser of Fraser Construction, the first recipient of the Joseph C. Harden Community Excellence Award
Joe Harden arrived on Hilton Head Island in 1971 while working for Ralph Toon & Associates, an Atlanta-based commercial construction company. By 1978, he had formed his own local company, Joe Harden Builder, Inc., which is responsible for the construction of Hilton Head Island buildings like Harbourside I and II in Shelter Cove, Marriott Monarch in Sea Pines, All Saints Episcopal Church, and many more. In 1995, Joe Fraser purchased the company and changed the name to Harden Fraser Construction Inc and completed buildings such as the Beaufort County Public Library-Bluffton Branch, Disney Lowcountry Resort, Palmetto Bluff community buildings and more under that name. In 2005, the entity became known as Fraser Construction, LLC and has been integral in building community excellence by constructing projects like J. Banks Design Building (first LEED Certified Building on Hilton Head Island), USCB School of Hospitality, fire stations, and many more structures that have contributed to the landscape and sense of community on Hilton Head Island and the surrounding areas.
The long list of buildings that Mr. Harden and in continuation of his legacy, Fraser Construction, LLC are responsible for illustrates Harden's dedication to maintaining the history of this area. Harden and Fraser have been almost single handedly responsible for ensuring that the architecture of our beloved Lowcountry corridor stays in sync with the historic aspects of the community.
Beyond Mr. Harden's direct and tangible contribution to Hilton Head Island and the surrounding areas, he also instilled a sense of community in his company that still exists to this day at Fraser Construction, LLC where there are 13 employees who have been working for Mr. Harden and Mr. Fraser for over 25 years, unheard of in today's corporate environment. Former employees Dixie Cope and Theresa Zimmerman were both greatly impacted by Mr. Harden's mentorship as his longtime employees. Ms. Cope shared, "Joe always believed in the team approach (no "I" in team) in all of his endeavors and instilled in me that anything is attainable thru hard work, together. I have always held him in high esteem and am grateful he is a part of my life."
For more information on the continuing legacy of Fraser Construction, LLC, visit their website at fraser-construction.com
The Hilton Head Area Home Builders Association is affiliated with the Home Builders Association of South Carolina and the National Association of Home Builders. Learn more about the Hilton Head Area Home Builders Association at www.hhahba.com