Callawassie Island Featured Community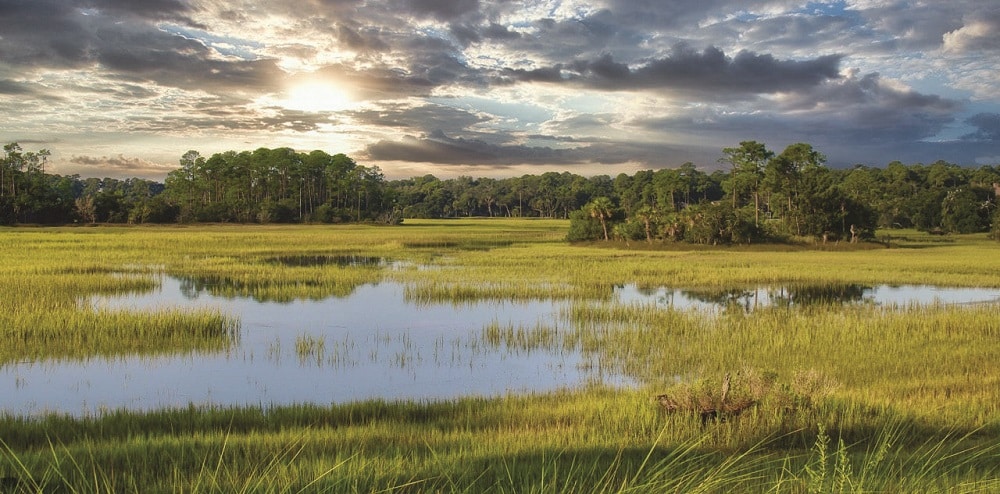 The Calm Waters of Callawassie
Signature of a Treasured Island
Twelve miles inland from the Atlantic Ocean (as the crow or great blue heron flies), lies an 880-acre sea island that bears a unique calling in its name: Callawassie. Sheltered by barrier island of Hilton Head, Callawassie is surrounded by waters of every nature: Port Royal Sound Basin salt marsh waterfront, 33 lagoons, and the confluence of Callawassie Creek with the Little Chechessee, Okatie, and Colleton Rivers. This flourishing location is why the area's first inhabitants named the island for its "calm waters."
Those first residents – the Yemmassee Indians – were themselves named for the serenity of the island and its nature, from the Muskogean yvmvsē, meaning "tame, quiet." Callawassie's ancestry dates back 4000 years and streams of evidence that its occupants valued the uniqueness of place and resource and stewarded it accordingly. Surveys have landed more than 100 Callawassie-situated sites on the National Register of Historic Places.
The land is home to several historical exclusives, including South Carolina's only sugar mill ruins. Known today as Sugar Mill Tabby Ruins, are identified as an "historically significant industrial site" both for the commercial development and the architectural remains of tabby construction built in 1815. Just another gorgeous signature autographing the facades, foundations, drives, and boundaries of the island's residences.
In 2006, Callawassie became South Carolina's first Community Wildlife Habitat, named by the National Wildlife Federation. Now with over 200 island residences classified as Certified Wildlife Habitats®, cultivation and preservation of this exceptional ecosystem is embraced as a responsibility and privilege.
In 2017, Callawassie was designated a Certified Audubon Cooperative Sanctuary, one of only 23 in South Carolina.
The ingredients of Callawassie's community, culture, and achievements come with consistently invested effort for centuries. Those actively participating in this ever-forming history will tell you it's motivated as much by passion as purpose.
Twelve miles inland, you'll find an island (and a way of life) fit for turning storybook pages. But the stunning views are no illustration, and the waters no appendix. They're a restorative and remarkable refuge to be experienced for oneself. Fair warning, when you visit an island like Callawassie, you'll likely want to stay.
Callawassie Island
176 Callawassie Drive
Callawassie Island, SC 29909
(843) 548-5186