Hilton Head Island Composite Squadron Seeks Members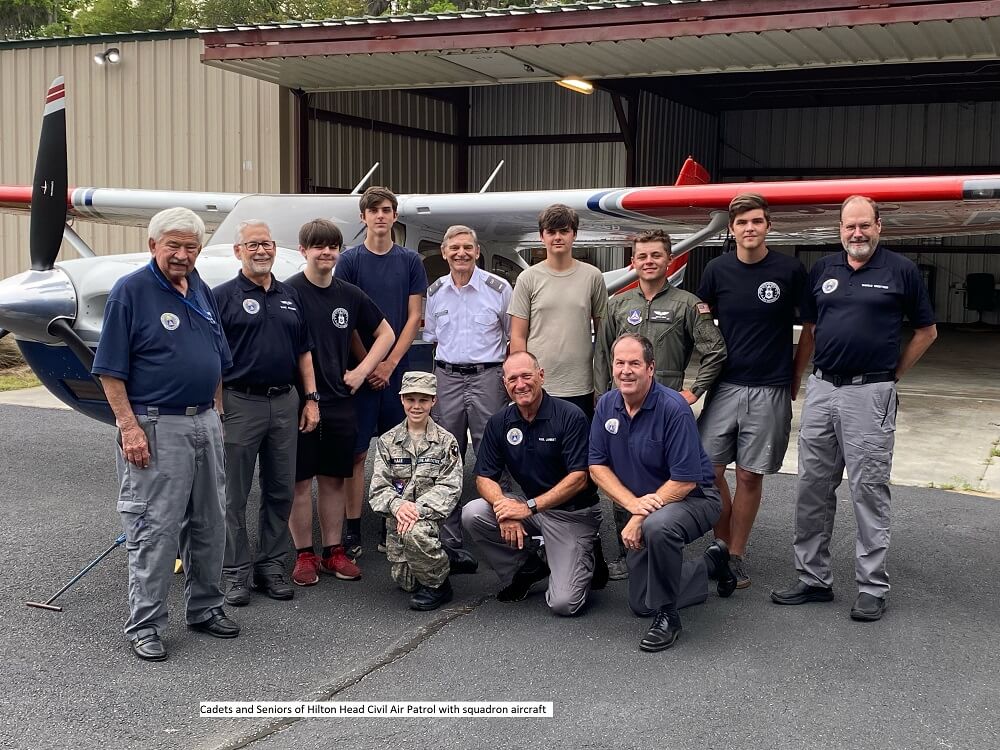 Civil Air Patrol Establishes Squadron on Hilton Head Island
Group Seeks Youth & Adults to Fulfill Aviation & Emergency Services Missions
HILTON HEAD ISLAND, S.C. (26 April 2022) –The South Carolina Wing of Civil Air Patrol has chartered the Hilton Head Island Composite Squadron as part of its ongoing mission to perform emergency service duties, to train teens as leaders, and to teach aerospace and aviation concepts to its members and the community.
The squadron is actively recruiting new members to join the thirty-some members who are already training to perform these ongoing mission goals for Civil Air Patrol. Teens ages 12-18 may join as cadets and remain in the Cadet Program until age 21. Civil Air Patrol scholarships, resume' building activities, hands-on leadership opportunities and opportunities to fly are just part of what is offered to these cadets. Senior members, or those who are 19 years of age or older when they join Civil Air Patrol, have opportunities to take flight in Disaster Relief work, perform aerial photography during natural- and man-made disasters, and serve as mentors and leaders to those members in the Cadet Program.
The Hilton Head Island Composite Squadron meets every Thursday at the Hilton Head Island Fire Station at 40 Summit Drive. For questions about membership, visiting a meeting, or learning more about Civil Air Patrol, please contact Squadron Commander 1st Lt Richard Moscatiello at (404) 520-6075, richard.moscatiello@scwgcap.org.
Civil Air Patrol is the longtime auxiliary of the U.S. Air Force and as such is a valued member of its Total Force. In its auxiliary role, CAP operates a fleet of 560 single-engine aircraft and more than 2,000 small Unmanned Aircraft Systems (sUAS). It performs about 90% of continental U.S. inland search and rescue missions as tasked by the Air Force Rescue Coordination Center and is credited by the AFRCC with saving an average of 82 lives annually. CAP's 54,000 members also perform homeland security, disaster relief and drug interdiction missions at the request of federal, state and local agencies. Operating as a nonprofit organization, CAP also plays a leading role in STEM/aerospace education, and its members serve as mentors to more than 20,000 young people participating in CAP's Cadet Programs.
Visit www.CAP.News or www.GoCivilAirPatrol.com for more information.