Coastal States Bank Title Sponsor of The LightHouse Awards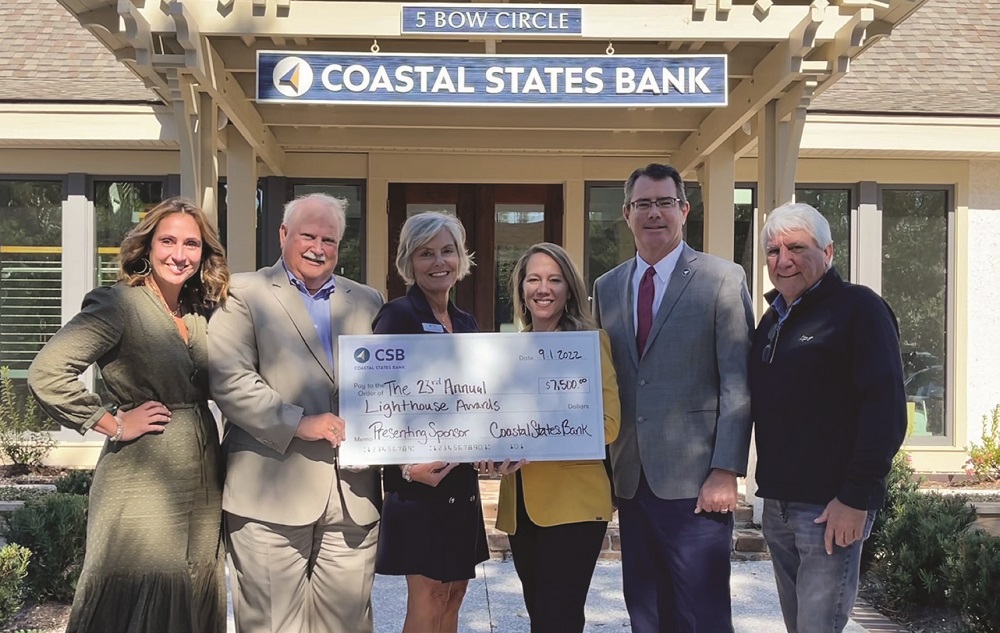 Coastal States Bank – Presenting Sponsor of the Annual HBA LightHouse Awards
The Hilton Head Area Home Builders Association (HBA) would like to thank Coastal States Bank for being the 2022 Presenting Sponsor of the Annual LightHouse Awards. CSB representatives met with HBA leaders over the summer months to confirm the company's commitment and presented the HBA with the official sponsorship check in Sept.
The LightHouse Awards were established in 1999 as an annual program specifically for members of the Home Builders Association to recognize quality craftsmanship and design excellence in the construction of homes throughout the Lowcountry. In 2015, the HBA added new categories in sales, marketing and design in order to include achievements by Associate and Builder Members alike.
From September 22-25, 2022 HBA staff and LightHouse Committee members welcomed nine different Building Industry Professionals from all over South Carolina, North Carolina and Georgia to physically judge each entry; a practice rarely seen in this digital age. Recruited individuals typically consist of a mixture of Builder/Remodelers and Architect/Designers from similar markets. Judges spend two full days traveling throughout the Lowcountry to score New Home, Full Remodel, Partial Remodel, Light Commercial as well as Architectural and Interior Design entries that have been divided into categories based on final cost of construction, project scope and square footage. Sometimes one category will start deep within Sea Pines Plantation, send them clear over to the Islands of Beaufort and round out in Palmetto Bluff. This process, although not always the most economic, is what gives the HBA's awards program integrity and assures each participant receives a fair competition experience.
"This awards program has remained steadfast in its commitment to excellence and although ever evolving, it will remain hands-on because true craftsmanship cannot be judged by photos but must be felt and experienced in person." Stated Meg James, Executive Officer of the HBA.
"The backing of Coastal States Bank is essential to the success of the LightHouse Awards program," stated HBA LightHouse Awards Committee Chairman Dan Monroe. During the check presentation Monroe thanked Coastal States Bank associates for their support stating, "Coastal States Bank's commitment to our local Building Industry Professionals and the community we all serve, is a testament to the success of our awards program, the talent of our local builders, and the character of Coastal States Bank."
"Coastal States Bank is honored to be a part of the local HBA and we consider it a privilege to support our local community through this event. The Lighthouse Award Gala celebrates the Lowcountry's most talented Home
Builders, Architects and Designers. These Hilton Head Area HBA members produce custom homes and designs of the highest quality and craftsmanship. We are proud of their commitment to the Lowcountry and excited for the opportunity to celebrate their success," stated Ric Spiehs, President of Coastal States Mortgage who presented the sponsorship check to HBA leaders along with Mortgage Loan Officer, Lisa Henry ; Lowcountry Regional President, Diana McDougall and Branch Team Leader, Mark Brittman.
Ric's commitment to CSB is built on the belief that they have the best team, community involvement, and because he too is, "Local. And Proud of It."
2022 LightHouse Award winners were announced at the 23rd Annual LightHouse Awards Gala on November 18 at The Westin Hilton Head Island Resort and Spa. For more information visit www.hhahba.com or www.lowcountryhome.com to see the winners of this year's awards.