2022 Fun in the Sun PFS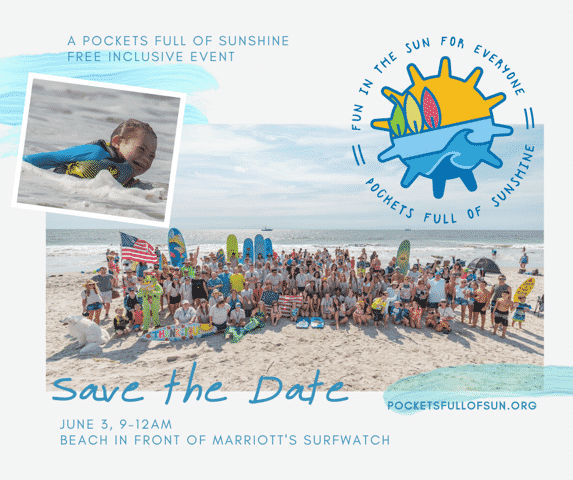 Pockets Full of Sunshine – "Fun in the Sun for EVERYONE!"
An inclusive day at the beach!
About Pockets Full of Sunshine: Since 2015, Pockets Full of Sunshine has been working to make Beaufort County a sunnier place by providing inclusive social and vocational opportunities for intellectually and physically disabled adults. Founded by two special educators and the parents of an adult with special needs, PFS has a goal of bridging the gap and promoting inclusion between the general population and individuals with special needs, providing opportunities for increased independence, growth and sense of personal pride.
Pockets Full of Sunshine was inspired by recycled material from an automotive label company that looks like a small yellow 'sunshine'. The 'sunshines' are recycled and re-purposed by adults with disabilities who turn them into greeting cards, gift tags, magnets and stationary. Funds raised support community focused employment of adults with special needs. Pockets Full of Sunshine is a 501(c) 3 nonprofit organization.
T-Shirt Sponsor – $250 minimum
Fun in the Sun for Everyone is an inclusive beach event for individuals with special needs, their families and friends! PFS hosts this free, community-wide activity to promote inclusion and an introduction to the beach and water sports for families and individuals who may not otherwise be able to access them. Thank you for your generosity towards a day that many in our disabilities community have called 'the best of the year'!
Thank you for spreading the sun!
"Disability is a matter of perception. If you can do just one thing well, you're needed by someone" – Martina Navratilova