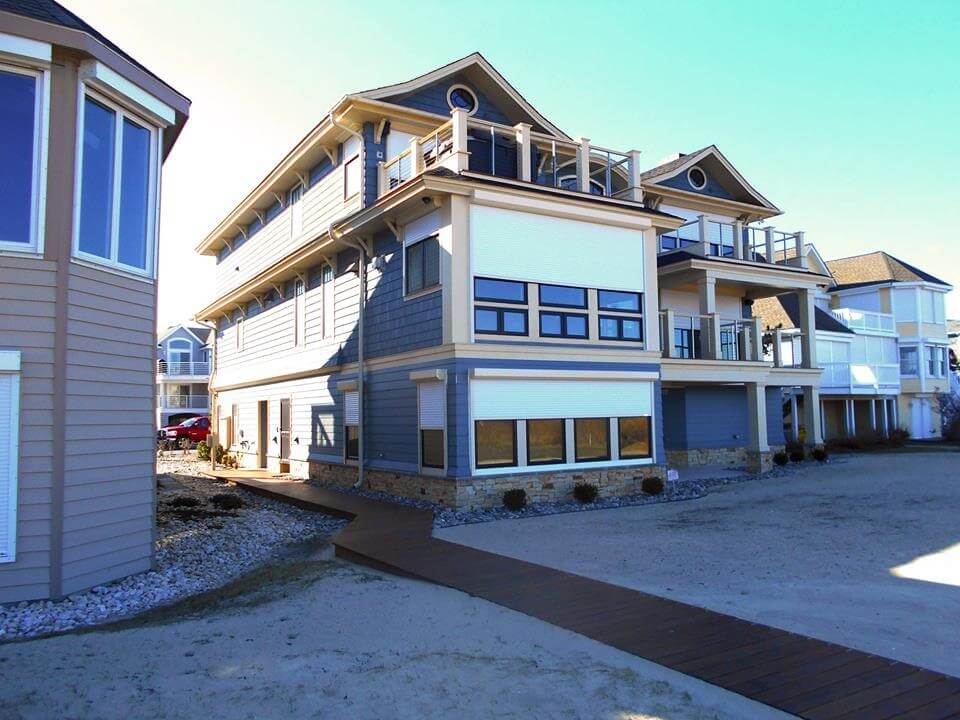 Storm season is quickly approaching. How ready is your home for the impact of a storm? Windows are the most fragile portion of the home and one of the most used access points in burglaries.
Whether you plan to evacuate for the storm or shelter in place, storm protection is ideal for your coastal home.
We developed a small list of things to consider when selecting your home's storm protection solution.
When selecting which is best for your home consider the following:
1. WHAT IS ALLOWED BY ANY HOA'S COVENANT OR COMMUNITY GUIDELINES? 
There may be certain styles or colors that can be selected.
You may also have to submit paperwork and wait for approval which can delay further action on your order.
2. DO YOU HAVE ANY WINDOWS THAT ARE NOT EASILY ACCESSIBLE?
Second story windows and dormer windows can be tough to reach and may require a ladder for operation of the shutters or install of storm panels.
If this is the case, you may want to consider rolling shutters for at least these windows.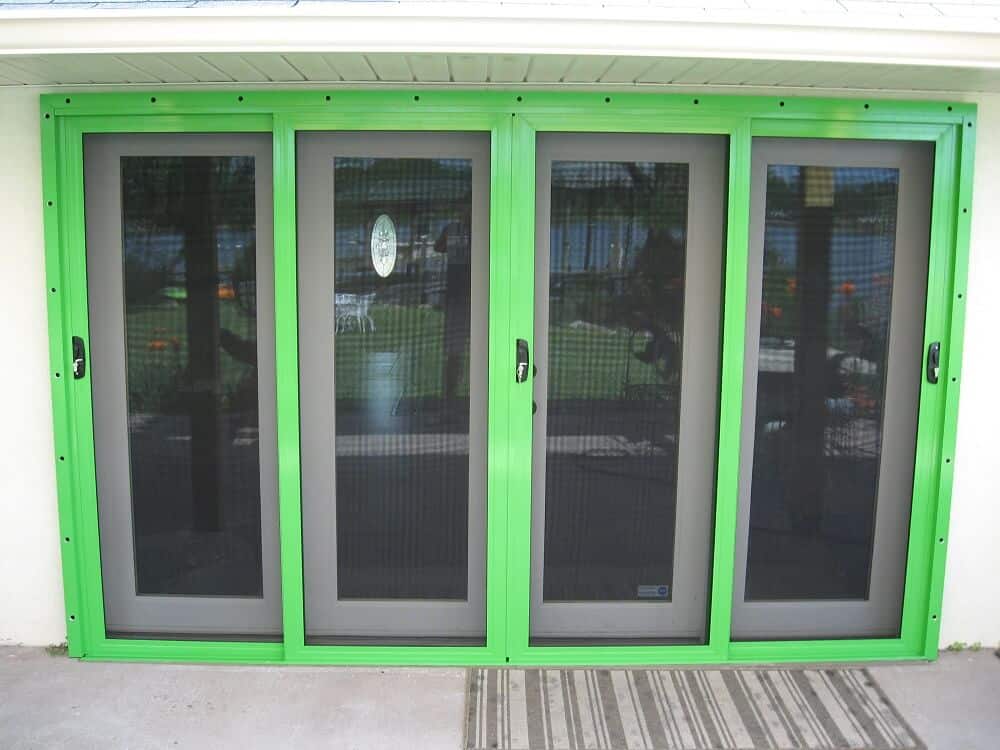 3. HOW MUCH PREPARATION AND WORK WOULD YOU LIKE TO DO PRE-STORM OR LEAVING THE PROPERTY? HOW EASY WOULD YOU LIKE OPERATION TO BE?
Items such as storm panels will have to be installed before the storm arrives. This may leave you with little time to prepare with supplies and other needs on a large home.
If you are unable to push a lot of weight for large accordion shutters or operate the manual rolling shutters hand crank, then it may be best to use motorized shutters.
If your property is a rental and you need to secure the home when not in use, you will need to consider what is the easiest for renters to use with minimal instruction.
4. WHAT BEST MATCHES YOUR HOME'S EXTERIOR STYLE?
We have various items perfect for each home's exterior and neighborhood guidelines.
Choose permanent options such as accordion shutters or rolling shutters for year round protection. Add remote control to your rolling shutters to operate from wherever in the world.
The neutral color options make this very easy to match any home's style and current color pallet.
Permanent options are great for vacation or rental homes that aren't regularly inhabited by homeowners.
If you are looking for a system that looks "natural" when not in use, choose colonial or bahama shutters. These styles are normally seen on homes and can be upgraded from a decorative style to the miami dade rated storm shutters.
5. HOW MUCH STORAGE CAN YOU SPARE? 
Storm panels, flat panels, and fabric shield offer great temporary protection. But once it's time to remove these options, you will need to consider where to store the panels and hardware.
Your panels could vary in how many are needed to cover and length. If you have very tall windows, you will need to consider this prior to purchasing.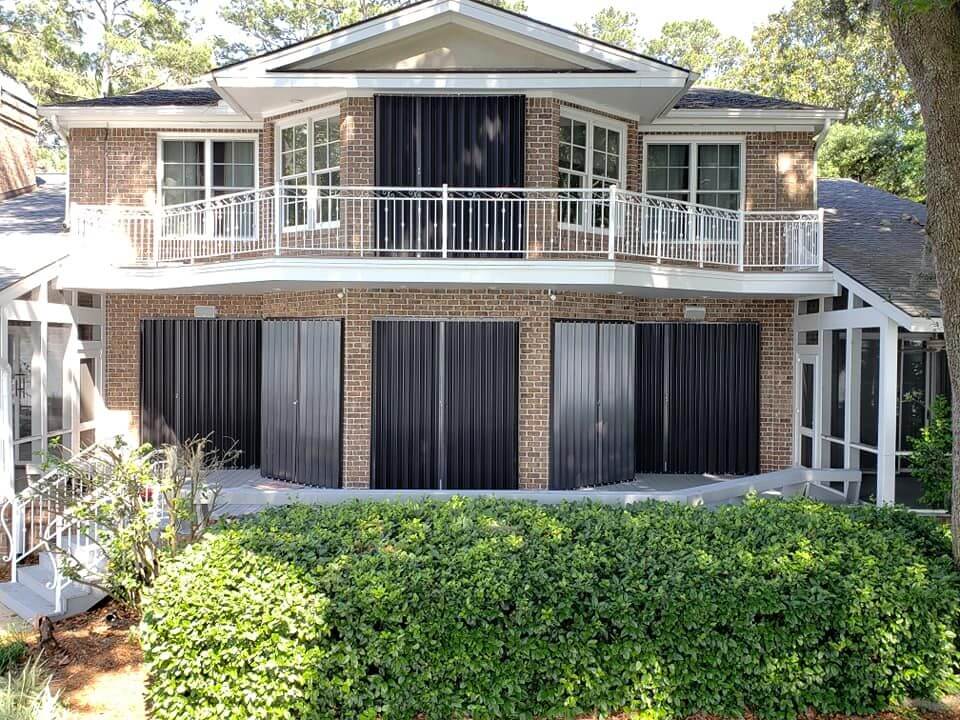 6.HOW MUCH MAINTENANCE WOULD YOU LIKE TO PERFORM? 
Maintenance varies product to product. with removable options, the maintenance is very minimal. At most you will need to rinse the panels or fabric off with water to remove and dirt or debris. Then simply dry and store until the next use.
For our permanent options, you will need to do anywhere from biannual to monthly maintenance.
This maintenance consists of making sure they operate smoothly, removing debris such as twigs, dirt, ant hills or any other items that would obstruct the shutter and tracks.
You will need to also lubricate the tracks with a silicone lubricant to keep the smooth operation.
7. HOW MUCH USE DO I WANT OUT OF STORM PROTECTION?
Typically plywood is an easy solution for coastal homes in a storm's path, but that doesn't make it the best option.
Plywood can really only serve as protection for one storm.
Since it will be wet, storing isn't an option. The wood will begin to rot and you may invite unwelcomed critters who would like that wood as food or a home.
Since all of our storm protection options are storm rated and made from heavy duty materials, they can be used multiple times and will last years.
With great care for the shutters and its parts, these systems can be a great investment for your home.
If you are considering any storm protection options, don't delay a consultation and ordering.
With many manufacturers located in coastal areas, production can be affected (and delayed) by any threats.
This may leave you vulnerable when you need the storm protection most!