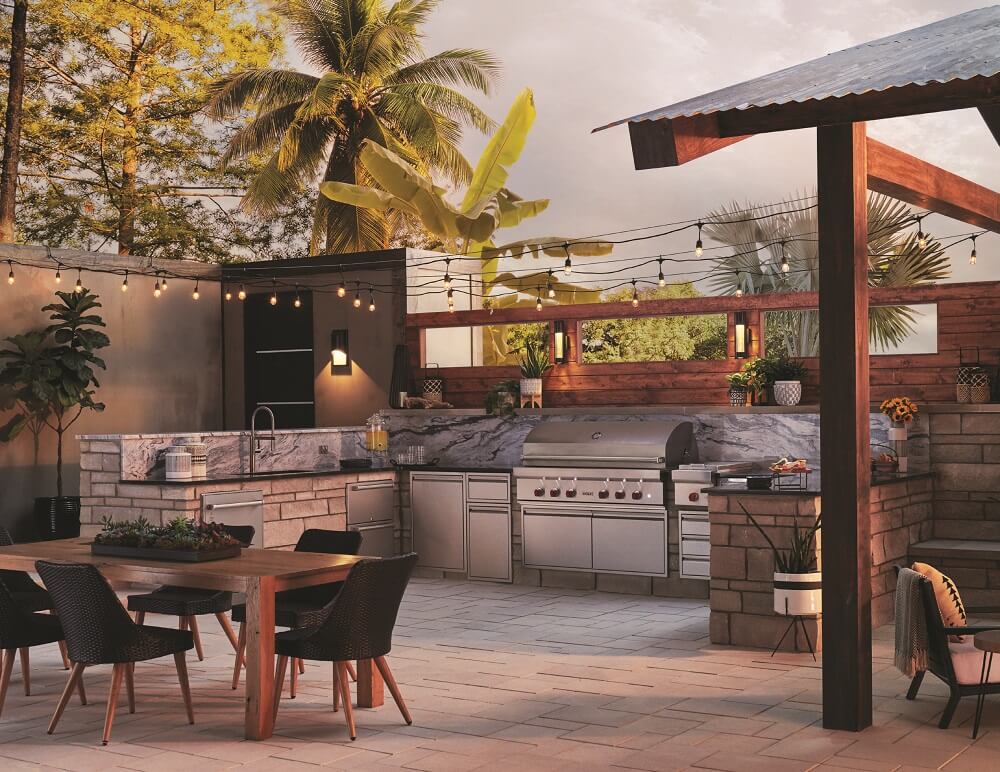 One of the appealing aspects of living in the Lowcountry is that the outdoor lifestyle—and cooking—does not end when school starts in late summer. In fact, outdoor kitchens can be used year-round expanding your livable area, positively impacting your health and lifestyle, and enhancing your home's value.
Today's outdoor kitchens are more than a barbeque purchased at a home improvement center. They're durable, high-quality appliances creating a natural extension of your home that can be used in all seasons.
Today's grills, flat-tops, and outdoor ovens include sophisticated flame and radiant heat, rotisseries, and active temperature control enabling homeowners to grill, fry, and bake outdoors.
Unless you have a yearning for that classic grilled taste, forget the charcoal and start your cooking extravaganza with the push of a button for an instant, failsafe ignition.
Expanding your cooking options, you can include one or more side-burners, perfect for your corn or Lowcountry boil. And let's not forget pizza ovens, smoker cabinets, ventilation and built-in warming trays to ensure all elements of your meal are ready at the same time.
To keep the cook and guests from trudging through the home for ingredients, snacks or cold beverages, consider installing an under-counter refrigerator. Everything will be cold and handy which will be appreciated when our hot summers return. And to keep your sweet tea and cocktails cold and refreshing, consider installing an automatic icemaker right next to your outdoor sink—complete with hot and cold running water piped directly from your home.
Because you can never have enough storage, custom stainless steel cabinetry provides durable, easy access storage that is both sexy and will stand the test of time. Outdoor appliance finishes range from colored porcelain to stainless steel. Both will ensure your outdoor kitchen cleans up easily and lasts for years even in our coastal environment.
Once your appliances are installed, be sure to keep everyone comfortable and out of the sun with a beautiful pergola, outdoor sail or umbrella. For the cooler days and evenings, a portable restaurant-style heater or a beautiful fire pit will keep the good times going as you enjoy music or gather around your all-weather television.
An outdoor kitchen will transform how you live. Cooking breakfast, lunch or dinner outdoors, you'll enjoy everything the Lowcountry has to offer, create a wonderful gathering place for friends and family, and you'll likely wonder how you ever lived without your outdoor kitchen.
If you have questions about outdoor appliances or are not sure how to begin planning your outdoor kitchen, please visit BWA in Bluffton at 1223 May River Road or at 6 Marshland Road in Hilton Head Island. We'll answer all of your questions and help you select outdoor appliances that meet your needs and budget. You can contact BWA at (843) 681-8441 or info@billywoodappliance.com and visit them online at: http://www.billywoodappliance.com
ARTICLE AND PHOTOS PROVIDED BY BILLY WOOD APPLIANCE