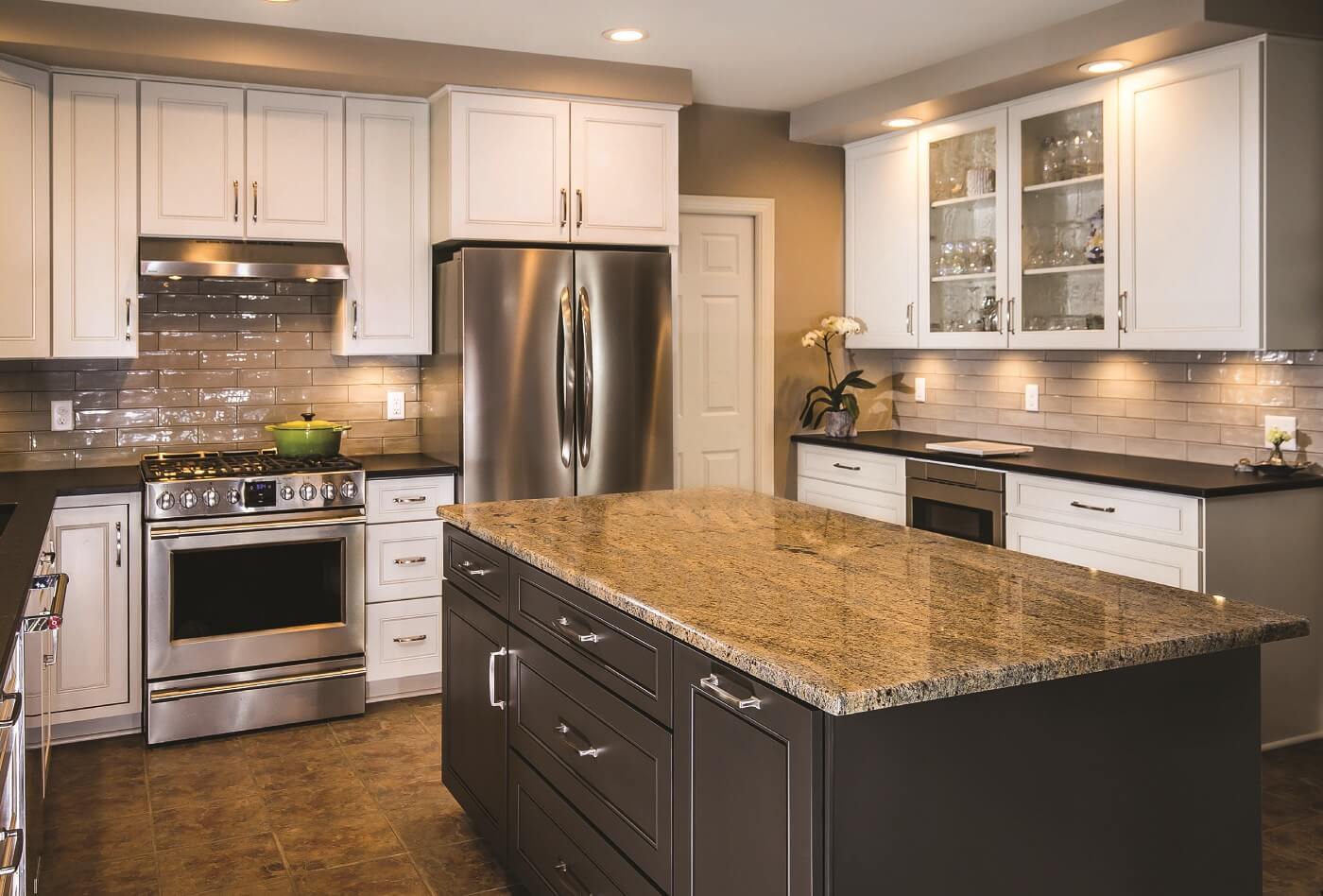 Fast Track to an Affordable Kitchen Makeover
Transform your kitchen in record time with a craftsman technique that leaves old cabinet boxes in place, saving time and money!
Many busy homeowners would love to dive into a complete remodel of their kitchen if it weren't for the anticipated disruption to their already hectic lives. They dread unending weeks of dust and mess, and an out-of-commission kitchen that compels their family to subsist on take-out meals.
Fear not, hearty kitchen dreamers! There is a solution at hand that drastically shortens the timeline of a kitchen remodel, cutting the mess and disruption to as little as one week, and results in a gorgeous and updated kitchen! How is this possible?
Let us introduce you to a technique called Cabinet Refacing! Let's face it, the messiest, most time-consuming, and often most expensive part of a kitchen  remodel is demolition and removal of old cabinets, and the purchase and  installation of new cabinets. It's also very wasteful. Money that could have been spent adding and upgrading other kitchen features is wasted on replacing cabinet boxes that you already have, and material with plenty of remaining useful life is sent to the landfill. Instead, refacing keeps existing cabinetry in  place and transforms your kitchen without the hassle, mess, and exorbitant cost.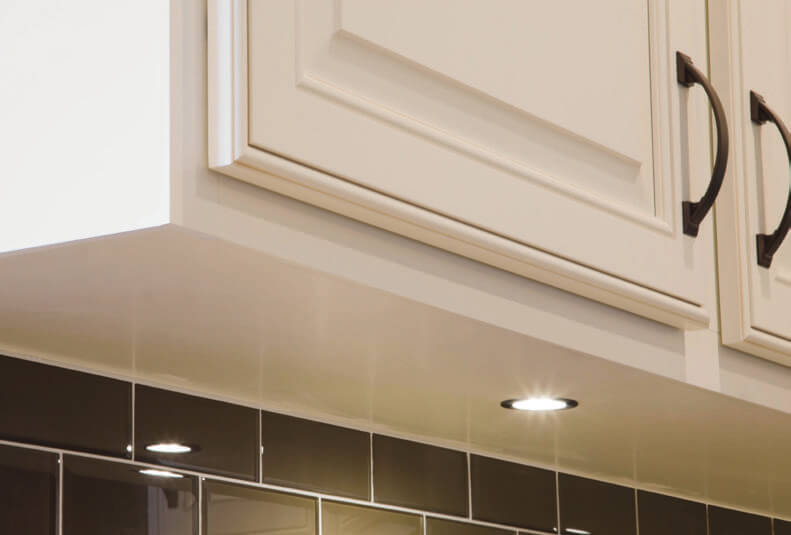 Don't confuse refacing with refinishing – the latter is merely a surface  technique. Refacing covers all exposed faces of the cabinets with new material. In many cases, doors and drawer fronts are all brand new construction. Keep in mind, not all refacing companies are equal, so do your homework. Premium refacers use only thicker solid wood facing (as opposed to thin veneers) and install craftsman quality doors, adjustable hinges and new hardware. They also offer the most choices in woods, colors, and finishes, along with many  upgrades.
Among the best refacing companies serving the Bluffton/Hilton Head area is American Wood Reface. They pull off stellar kitchen transformations with their 1/4″ Solid Wood Refacing System, using premium Amish-made components  and high-quality solid wood. There are literally hundreds of combinations of styles, colors, and finishes to choose from, in eight different woods, assuring homeowners can design their perfect dream kitchen.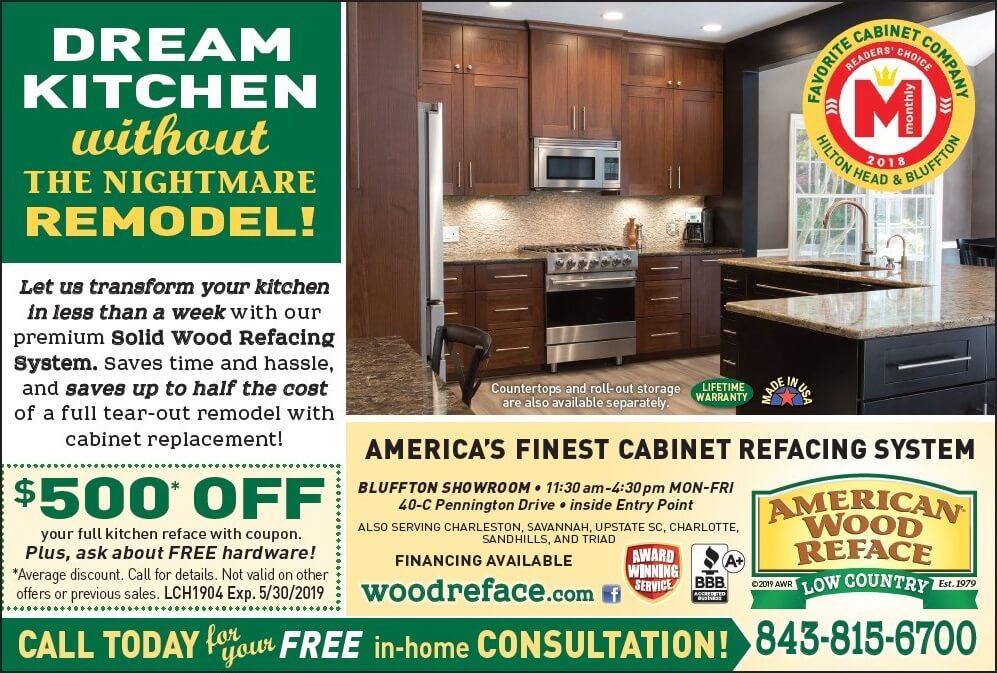 American Wood Reface has a crack team of expert installers who are specialists in refacing and have decades of carpentry experience. This allows them to offer extreme cabinetry modifications, such as altering cabinets for a different purpose, reworking kitchen layouts, building out additional cabinetry, extending cabinets to the ceiling, and installing accessibility-enhancing features such as drawer banks, full-extension drawers, and handy roll-outs. All such cabinetry modification work is virtually undetectable once the entire kitchen is refaced, making for cohesive appearance and supreme functionality.
American Wood Reface installs numerous upgrades and extras, allowing for a complete kitchen redesign. Of course, new countertops are a must, and a dizzying array of options are offered, including Cambria® quartz, a durable and beautiful Countertops and roll-out storage are also available separately. engineered stone that requires no sealing. New sinks, faucets, and countertop lighting are also popular add-ons.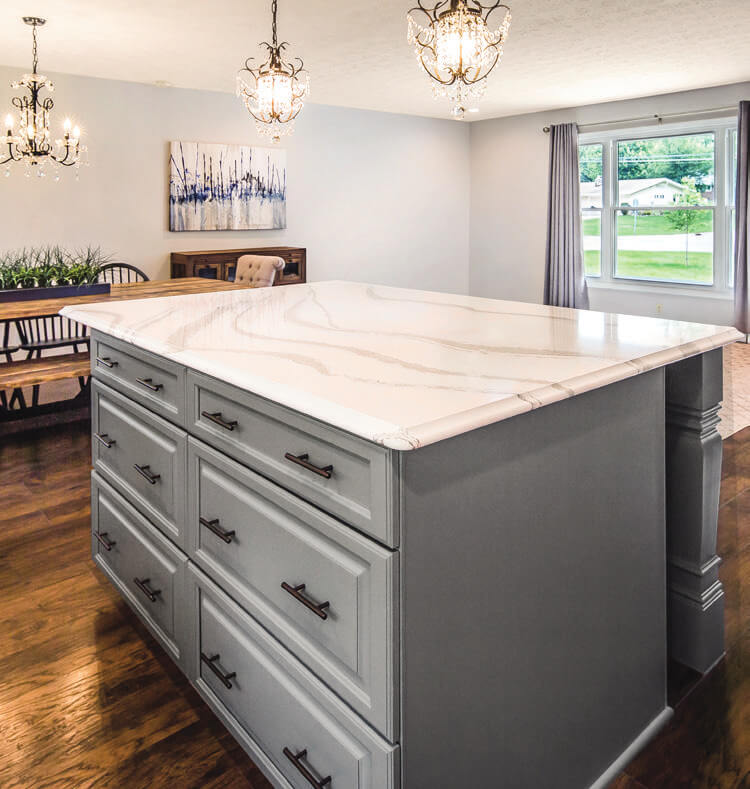 One of the most appreciated aspects of dealing with American Wood Reface is how easy they make the process. Starting with a convenient, free, in-home consultation, where you can choose all your materials in the comfort of your home, then receive a firm cost estimate so you know exactly what to expect. Their polite, professional installers arrive on time and clean up after themselves. All work and materials are backed by a robust Lifetime Warranty.
Explore refacing if you're looking for a no-hassle, fast and affordable new kitchen.