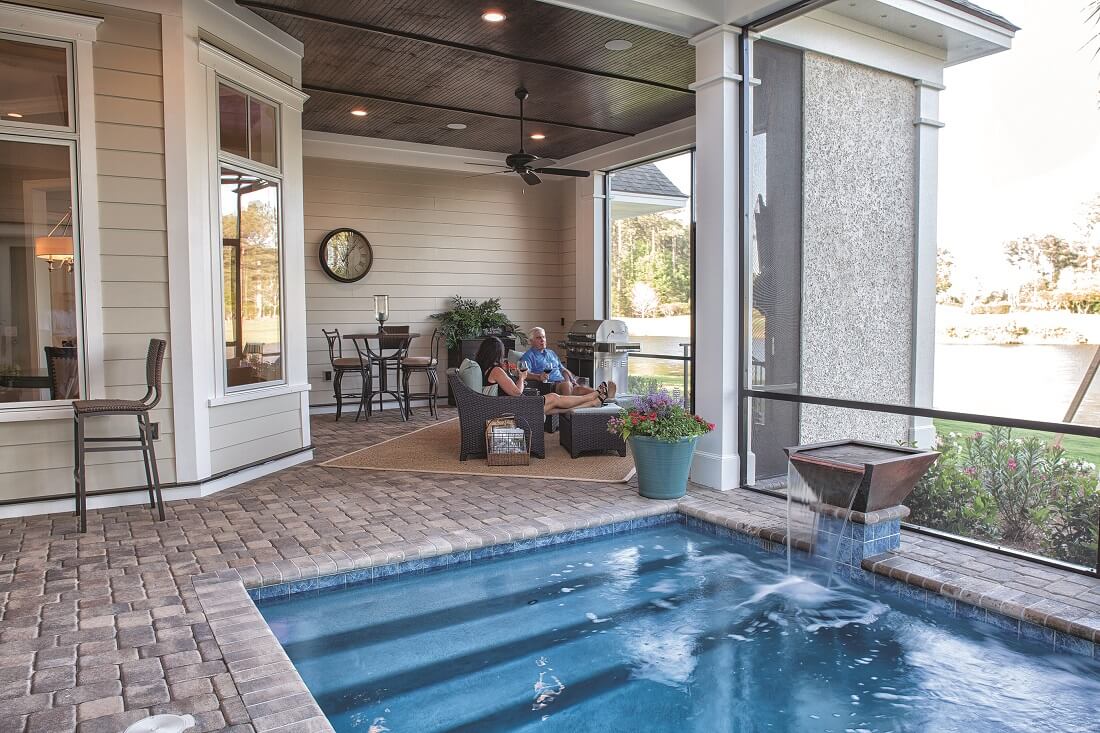 Our southern climate is perfect for outdoor living, so create a space for friends and family to enjoy
Living in the South comes with wonderful advantages like having friendly neighbors, sipping sweet tea, and being able to enjoy the outdoors for a good portion of the year due to mild temparatures and sunny days. Outdoor living has naturally found its niche in our warm climate. Inspirational landscape ideas from HGTV and Pinterest and a recession that forced us all to reevaluate how we use our space at home, have also helped shape a trend toward outdoor living that has blossomed into a multi-million dollar industry. Today, the retail market offers a multitude of innovative products that help us stretch out the seasons and create outdoor spaces that are as comfortable as any well-designed family room.
With more people spending time at home and looking for ways to extend their indoor spaces to the outdoors, the traditional grill and backyard picnic table setup has had to step up its game. Today people are investing in whole kitchens, fireplaces, heaters and waterproof electronics to extend the season. Even furnishings are available in a myriad of styles and weatherproof materials.
According to the Propane Education and Research Council, outdoor spaces are second only to kitchens as far as priority renovations go. In one recent survey of 5,000 homeowners, a whopping 87 percent said an outdoor living room was important or very important and more than half said they already had one. Clearly more and more of us — especially those in the new home market — are looking right outside our windows for spots to both relax and entertain.
When creating an outdoor space for your family to enjoy, think of the design as a continuation of your existing home minus the walls and traditional heat and air conditioning. Here are a few tips to help you get started:
START AT THE BOTTOM
Outdoor rooms don't typically have walls, so one way to define an outdoor living space is to start by adding a rug. A rug anchors and defines the area as a space to stop and relax. Rugs are available in a variety of colors and patterns that compliment your interior spaces, just make sure to choose one that's made of material, like polypropylene, that will withstand the elements and can be easily cleaned.
ADD SOME SEATING
The purpose for outdoor rooms is typically for lounging and entertaining. So, look for furniture you want to sink into and that creates a cozy, inviting environment. No one wants to enjoy an evening sunset or glass of Chardonnay in a stiff, uncomfortable metal chair. Look for wide chairs with thick cushions that allow ample room to curl up your legs. Weather and fade-resistant fabrics are a must because they dry faster and are resistant to mildew. Arrange the outdoor space as you would an interior one to allow for easy conversation. If the space allows, you can even create different seating areas and a table for eating.
SHED SOME LIGHT ON IT
Tiki torches are a nice addition for parties, but to truly mirror the intimacy of a regular living room, ditch them for traditional lighting. Overhead and tabletop light sets the mood for a nice evening while still offering plenty of task lighting. With outdoor rooms becoming a staple item in newer homes, manufacturers now offer a variety of beautiful and affordable chandeliers, lamps and candelabras that are interior worthy, but graded for exterior use.
SHINE IT UP
Adding accessories and spots of color complete an outdoor living room. Accent pillows and drapes made of fade- and weather-resistant fabrics will soften the space and help distinguish it from the rest of the backyard. They also allow your design aesthetic to carry through from indoors. Large planters and divider screens can help further define the space, but make sure you choose plants that won't have to be moved once they reach maturity. Once you have a design theme for the space, select additional furnishings based on your lifestyle–a bar cart for entertaining, a coffee bar or table if you use the space to enjoy your morning latte, or a table for al fresco dining.
LITTLE EXTRAS
Outdoor rooms allow us to be a little more creative with our choices. In an outdoor room you can do something unexpected, like hang furniture from the ceiling. Wide, comfortable swings the size of sofas or even twin beds are becoming much more affordable and they can work perfectly in an outdoor living room. Adding a string of lights across the seating area provides light and ambience, and an open fireplace provides warmth so you can use the space all year long.